The Community Page will be used to provide current information and news of Llangrannog. Any notices of meetings, events or fund raising can be published on this site, without cost.
Please send any information via e-mail to: Bryan Davies



Collection of 6 Photographs from 1934, kindly sent in by John Page of London House
In Photo 1, if you Zoom in, it shows Gerlan in the process of being built.
In Photo 4, if you Zoom in above Craigydon, it shows the second Railway Carriage
that used to be in Llangrannog. Sources told us that this Railway
Carriage was destroyed by Fire.

Llangrannog / Carantec



Covers UK for Mobile and Data Reception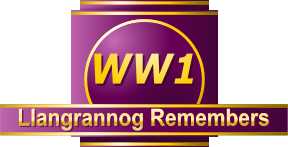 LLANGRANNOG REMEMBERS 1914-1918
All families suffered when a loved one was lost but some families had more than one member amongst the fallen The Montague family of "Bryndewi", Llangrannog, lost two sons. Stanley Montague, Trooper in the 9th Lancers was killed at Ypres on 24th May 1915 and his brother Ralph, Gunner with the Royal Field Artillery, was later killed at Ypres on 14th October 1917.
The family at Cefn Ceiliog, now Hendre, Blaencelyn, lost two grandsons. John Thomas Davies, Able Seaman, died when his ship was torpedoed on 19th February 1918 and Lieutenant David George Griffiths M.C. died of his wounds on 17th December 1918.
William Morgan Lewis, Waun Villa, and John Lewis Owen, Wynebhwnt, were neighbours and both died when their ship SS Snowdon was torpedoed on 19th May 1918.
The Hope family of Pigeonsford/Rhyd-y-Colomennod and Bryngobaith sustained many losses within its extended family.
The final months of the war from October 1917 to November 1918 were a particularly tragic time for Llangrannog families as the death toll mounted. The compiled list contains twenty names and fifteen of these men died in this period of twelve months.

The following Poem was sent to us by 11 year old Jessica, who is the Granddaughter of Pete and Jan in Siop Glynafon.
This is Llangrannog

A wave crashing,
A sun setting,
Seagulls squawking
This is LLangrannog

Screams of laughter,
Wind whistling,
Music playing,
This is Llangrannog

Siop Glynafon,
Jan and Pete,
Buckets and spades,
This is LLangrannog

The Pentre,
Mike
Beer and wine,
This is LLangrannog

The beach Hut,
Jane
Ice cream and cake
This is LLangrannog

The Ship,
Di Brown
The finest fish around,
This is LLangrannog

The Patio,
Julia
Hot chocolate,
This is LLangrannog


Carreg Bica,
Ynys Lochtyn,
Pembrokeshire coast,
This is LLangrannog.



Jessica Radcliffe aged 11.

Llangrannog Fireworks
We had a grant from the Ceredigion Rural Events Programme (CREP), to help sustain the firework display for future years.

Welfare Committee Meeting Minutes
We will be publishing the Committee Meeting Minutes on a regular basis on the News Letter page
Welsh Language version of the minutes are to be found on the Cylchlythyr page

Little Art School
On 5th September six Sculptured Ceramic Pictures were unveiled by Julia (Patio Cafe) and is the latest work carried out by the children of the Little Art School in Llangrannog, under the expert guidance of Helena Boyesen. The pictures are located on both sides of the "Shelter", opposite the "Beach Hut Cafe".
Click on any picture below to see Full Size

St. Caranog Plans are being discussed to commission a life size bronze statue of St Caranog to be placed on Pen Rhip headland. The statue will depict St Caranog looking out to sea. Planning permission has now been granted for this which will also include a Celtic base and a stone seating area. The sculpture will be designed and built by the Internationally Renowned sculptor Sebastien Boyesen, who lives in Llangrannog. Fund raising activities are planned.
Seafront Mosaic A mosaic has been made and setup on one of the end walls of the "Shelter" on the sea front. This was done by the pupils of Pontgarreg Primary School, under the expert guidance of Helena Boyesen and is a credit to both the pupils of the school and the village. The "Shelter" or "Shanty" as it is known locally is now owned by Welsh Water and has recently been tidied up and repainted, a big improvement on the "eyesore" of recent years. A photograph of the Mosaic is to be found in Photo Gallery 3.
Car Park at the top of the village has been re-instated after completion of the water treatment works. Llangrannog Welfare Committee will place an honesty box for parking fees, monies from this collection will be used to fund projects within the village. A toilet block is also located within this car park.
Ship Inn Car Park is located next to the beach and is a private Car Park. Parking Fees vary according to season and payment is either via an Honesty box, or to a car park assistant. There is one fee for all day parking.
Other Parking There is some Car Parking towards the sea front, but during the summer season this is officially limited to a one hour stay.
Beaches have more sand on them than for several years and now that only clean water is discharged into the bay, will mean that the quality of the water is perfect for bathing. Cilborth Beach can only be accessed from Llangrannog Beach at low water, but there is a steep, but safe cliff path to Llangrannog. Third Bay and beyond can only be accessed from Cilborth at very low tides, or by boat. These beaches are completely covered with water at High Tide. Billis Beach has plenty of sand and can be accessed by boat or via a cliff path from Lochtyn Headland. Lochtyn Beach has plenty of sand and can be accessed via a steep cliff path, or by boat.
Dolphins can be seen on most days in the Bay during the Summer season.
Welfare Gardens upper level was replanted in the Spring and should be a display of colour for the season. The mosaic on the lower level garden has been completed by Little Art School and these gardens are tranquil and a credit to the village of Llangrannog.
Mobile Phone reception in the village is variable. Orange has little or no signal below Brynhoffnant, Vodafone has some reception near the Lime Kiln or on Penrhip, whilst T Mobile or One2One has good reception throughout the village, as has Virgin Mobile. Mobile Broadband has no signal and currently there is no WiFi available in the village. We have no information on other networks, but if you e-mail us at Carregbica1@googlemail.com , the information will be included.

Contact can be made via e-mail to

and your notices will be published.