Gilfach Caravan Park
01239 654250

---
Bryn Y Mor

---

Crannog Cottage

Contact details: Jenny Wood 07725 130037, also on website www.llangrannog.net
---
---
Llety Fach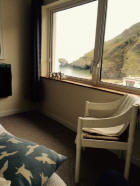 Two Flats, each sleeping 5/6. Beach views from the Front
Phone number 07852935373, email kate.brice21@hotmail.com

---

11

The Accommodation list below is mostly for properties within Llangrannog, who do not have their own website and these have Telephone Contact Numbers

shown below the Photographs.
Information on Accommodation is given in good faith as public information and is not an endorsement of the Properties as we have not inspected any of the facilities.
Several of the Holiday Properties listed will take long weekend lets outside of the main July/August season.
Click ON Pictures to for a Full size Photograph.
Bywel (Two minutes from Beach)

Telephone Contact 01564 230028

Trem-y-Don Cottages

(Two Cottages on the sea front)

Telephone contact

e-mail cottages@calycon.co.uk




Frondolau Fach Cottages (Three Cottages, one minute from Beach)

Telephone Contact 01239 654594

Bwthyn Blaendolau (Two minutes from Beach)

Telephone Contact 01239 654594

Dolwylan (Two minutes from Beach)

Telephone Contact 01239 654594

Beach Hut Bungalow (On the sea front)

Telephone 07949 378 493
5 bedroom Victorian house for holiday rental sleeping up to 10. About 300 metres from Llangrannog beach.

SeaView (Overlooking the Village, 5 minute walk)

Telephone Contact 02920 703084
'Gullsway' Chalet (Overlooking the Beach Village, Five minute walk)

Telephone Contact

mobile: 07940504077 landline: 01189 832205.




Bronwylfa (Overlooking the Village, 5 minute walk)

Telephone Contact 07947 319 162

Chalet (Overlooking the Beach Village, Five minute walk)

Telephone Contact 01162 393594

Craig - y - Don

3 minute walk from Beach
Gerviccottage1@hotmail.com
---
Bwthynnod Pi

Cot
---
---
https://www.campsites.co.uk/search/campsites-in-wales/ceredigion/llangrannog
---
This site was last updated Thursday, 10 June 2021